Welcome to CHH Engraving!
Home of the best values in Promotional Marketing. Our site contains some of the more popular items available to you to help promote your organization or product, identify your staff or group, or recognize clients and supporters.
Whether you are looking for a printed piece to help promote a program or product, an engraved badge to identify your staff, a plaque to recognize service, an embroidered jacket to honor an accomplishment or an etched glass paperweight to pay tribute to that special client, you will be able to find it at CHH Engraving.
These pages can only begin to show you the wealth of products available. That's where the staff of CHH Engraving comes in. E-mail, call, or fax us with your objectives (theme or target or your promotion), who is to be identified or recognized, quantity, and budget -- and we will put together a list of ideas for you! Let us put our many years of experience and creativity to work for you.
Put our experience to work for you. Let us help you be even more successful!
Featured Item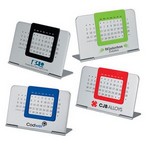 Perpetual Desk Calendar
Perpetual calendar with colorful slide that can be used year after year. Folds flat for shipping. 5 1/2" W x 3 1/2" H x 1/4" D
$1.59 - $2.50